Shopping Cart
Your Cart is Empty
There was an error with PayPal
Click here to try again
Thank you for your business!
You should be receiving an order confirmation from Paypal shortly.
Exit Shopping Cart
A New Testament Church Planting Initiative ~ Being & Making Disciples Who Plant Autonomous Churches To Extend The Kingdom Of God
We are calling the month of April: "Treinta Dias de Maravillas" - translated, "Thirty Days of Wonders" (it rhymes better in Spanish)...
We see in Jesus, and in many of His followers that proclaiming the Good News about Christ and forgivenes and eternal life was the number one priority, along with demonstrating His compassion and power.
So, for three weeks in the month of March, we equipped the saints and built up the Church at San Luis via many hours of Biblical lessons, real-life examples and practical exercises that everyone participated in. This was all aimed at directing the Church to follow Jesus' example, and to obey His commands. We called it the "School of Evangelism." However, when the teaching, preaching, examples and exersizes were all over, the application part began.
What we planned in advance of the School of Evangelism is that following the School we would take each day of April and go into a different house. The host of that house is a person who was willing to invite many non-Christian folks into their home on a certain day at a certain time - the goal is to have at least 6 of them present when one or two of the believers from the Church at San Luis show-up to share personal testimonies of God's amazing work and/or miracles in their life. Following those testimonies, they will share the Gospel message about Jesus so that the folks gathered may respond in faith and be saved.
30 houses = 30 days in April = hundreds of unsaved people hearing the Gospel via these new believers who make up the Church at San Luis...
Please pray for the Power and Anointing of the Holy Spirit, for the piercing of hearts with the Word, for repentance and faith leading to Salvation. Thank You. Your prayers and support are impacting people's lives, Forever...
Pressing On With You,

Pastor David

This is Crispin unloading one of the rolls of chain-link fence we purchased to put around the property where we're going to build the Community Center. We have now purchased a few of rolls of fencing and a few poles, but we're still way short of what we need.
We are certainly living in a place where the enemy prowls around like a roaring lion and the thief often comes to still, kill and destroy.  We are not afraid in any way.  At the same time, we do want to be aware, and we want to be wise; we want to keep your investments in this Kingdom work safe and secure so they may be used to help fulfill our mission of seeing multitudes of people's lives changed now, continually and forever!
Lord willing, I will be providing you with an update soon on where we're at with the Community Center, as well as a video of Crispin sharing his testimony as to what God has begun in his life - it is Beautiful!  Until then, Be Filled with the Holy Spirit and Follow Jesus…
Greetings To You from the Church @ San Luis…
Recent Events
I woke up yesterday with a smile on my face, a message to preach on my heart and thoughts racing through my mind as to what all needed to be accomplished in the next few hours as Iracela was already awake and readying the kids for school. She then left for Yuma (at 5:30) to get the kids to class on time; she then turned around and drove right back so she could help interpret for a mission team who came to help us build a new home for a grandma from church whose husband is in prison for ten years, and who takes care of 5 grandbabies every day (Iracela is pretty awesome).
We had a good time at the Tuesday morning Bible study where folks from Texas and China and Mexico got to share their Christian experiences living in three completely different cultures (the extreme difficulties and lack of freedom living in a one-child policy country, the worldly life in a country where idolization of Pancho Villa and cerveza are the norm, and the giving up of seeking the American dream to instead seek a life lived for Christ).  We returned to the construction site and after putting up four walls and seeing the team off for the day, we had a group of Mexican couples whom we're discipling over at the house in the evening for about three hours (a year ago these folks didn't talk to each other, now I can't get them to separate and go home).
We then had some visitors last night about 11:30pm, asking us to give them a tow as their vehicle broke down (by the appearance of dash lights and sounds coming from the engine, I think our church van is beginning to wear out). Early this morning we had some kids knocking on the fence as they came looking to get some homework done before school started, which required the use of the internet (we've made our computer and internet available for this purpose as they would otherwise have to pay for use at the internet café down the road, or perhaps not get their work completed for lack of ability to payfor the use).
I'm now writing you this letter, waiting for Iracela to return after dropping the kids off at school, so we can go help put a roof on that new home,interpret at another weekly Bible study with another group of new believers,then go back to Yuma to pick up our kids and load the materials for a shade structure which we'll use as a temporary shelter where we hold our services (the old tarps/canopy couldn't be sewn anymore and the poles wouldn't stay together with more screws).  Sometimes it seems like the days run together, like weeks pass as quickly as a day. It is sure encouraging to know that the race we are all running together is not in vain…
 "Therefore, my beloved brethren, be steadfast, immovable, always abounding in the work of the Lord, knowing that your toil is not in vain in the Lord."  ~1 Corinthians15:58
We had a couple which has three children come to us 6 weeks ago and tell us that they wanted to getmarried and be right in the eyes of the Lord, even though I've never spoken to them personally   about marriage (the conviction that comes from God's Word being preached brings about repentance and thus much blessing). In place of our regular service 2 weeks ago they were married in front of the whole Church at San Luis, as well as many friends, neighbors and family members.  I had a guy offer to help me move something after a recent service, and when I told him, "It's okay, I got it – I'm used to doing this alone," he grabbed me by the arm (when my hands were full), looked me in the eyes and said to me, "Pastor, from this point on you won't have to do anything on your own – I will help you." One of the ladies who is leading a Foundations for the Christian Life study that I took her and a group of others through is about finished and anxious about what the next study is that she can learn and keep teaching others as the group continues to grow…
We were able to get a small portable sound system and a 55" television; now the acappella worship includes speakers and a screen so the rest of folks who gather can better learn the words of the worship songs to sing unto the Lord. We received donations so 4 new families can start raising chickens and having eggs (these families combined breakfast & lunch so the expenses are reduced for 1 meal insteadof 2) – now they get to eat a healthy breakfast everyday for such a small investment.  We did an outreach at thepark and one of guys who'd drank everyday for 40 years came to service last Friday – that was his first time ever going to Church and he's been sober since we Proclaimed and Demonstrated to him Jesus' Love, Word and Power…
Pause for Thanksgiving
I hope reading through thus far hasn't left you exhausted - there is just so much the Lord is doing in people's lives and in these communities.  We are so, so blessed and encouraged.  We thank you Very Much for your continued prayers, for your financial support, and for your words of encouragement via your visits, emails, letters and facebook comments.   Without Christ, it would all be impossible –without you, it would be so much harder.
Update on Community Center
We've located two lots where we hope and plan to build the community center. We're about 5k short to purchase the property; we're also in the process of getting plans made by a Mexican architect and approved by the city, then of course we'll be praying for friends to help us purchase the materials for the first building.  There will be phases whereby we'll do ones quare building first, then start the second building while dividing the first into rooms so the babies can be taken care of, classes can be taught, copies can be made, the Word of God can be preached, cold refreshing water can be drank, food can be cooked & served, and more people's lives be eternally changed.  With provision, we're hoping to get started building in July/August 2012 – you are personally invited by everyone who is the Church at San Luis to join us in this effort in whatever way the Lord puts on your heart–please let me know if that is you…  We Love You & Appreciate You. Live for Jesus!
Pressing On WithYou,                           
The Power Family
Missionaries to Mexico
email:  [email protected]
phone:  (928)246-4142
*NEW*current mailingaddress: 
PO Box 13582
San Luis, AZ 85349
website:www.ChurchMexico.com
website: www.ChristiansInMexico.com
facebook: www.facebook.com/dbpowerz
I was preaching last night, and the Holy Spirit overcame me. 
I was sharing about three types of people: the Curious, who are those intrigued with miracles or signs attributed to this Jesus and hang around to see what happens next, or who are philanthropic themselves and like the idea of a group of people willing to give of themselves and their efforts for the benefits of others as the "originator" of their religion did; the Convinced, who believe that Jesus is who He says He is, but who have not repented and made a committment to follow after Jesus and His commands; the Committed, who after being curious about the things of God became convinced that Jesus is God and died for them as well as the whole world that all might be forgiven, saved from hell and saved to heaven, they Committed their lives to Jesus forevermore.
It was when I got to talking about those Committed to Jesus that everything went another direction...  I began to illustrate what Commitment means by reminding folks of how some guys in the old days would secure a promise by cutting their hands and then shaking - the blood by each one signifying the importance of the Commitment to a certain agreement that each one would keep.
As I was explaining about the significance of this blood, that is when it happened. All of a sudden words started flowing out of my mouth and they were not what I had written down nor planned. The following is merely a summary of what was said, as I cannot replicate in writing how it came out nor what was communicated word for word...

The significance of the blood on two guys' hands to secure a promise or Commitment was then related to the cuts on Jesus' body and the blood He offered for His Commitment to each of us.  Only, the cut was not on His hand, it was 39 cuts on his back from the whipping exerted on Him by the guards; it was blood dripping from His head as a result of the thorny crown forced into scalp; it was the blood that spilled with water as the soldier pierced His side with a sword to make sure He died on the Cross.
The conversation then went on to relate Jesus as the one who has made and who is making the offer - that is, for His part, He is offering His life with the promise to Forgive us our Sins, Give us New Life, Life Abundantly, and Life Eternal. However, those who are only Curious, and those who are Convinced that Jesus is real but have not Committed their lives to Him, these have Rejected Jesus' offer.  He is standing there in front of them, blood dripping from His head and back and side, stretching out His arms towards them in order to enter into this everlasting agreement -  and the Curious and Convinced have rejected Jesus and His offer because they are not willing to Commit to their side of the agreement...
"If Jesus died for me, the Least thing I can do is Live for Him."  That is the Commitment Jesus is wanting from us. When two men shed blood to shake hands, one man went first, then the other - both had to agree to fulfill their side of the Commitment:  Jesus' Commitment, sealed with His blood, is to save us from our sin and give us eternal life beginning immediately; if we are to accept His offer, our Commitment in return is to live for Him and serve Him as our Savior, as our Friend, as our Lord and Master and King. Our offer is our life with the promise to serve Him and seek out to fulfill His plan and His will for our lives while still on this earth.  This is our agreement, our contract, our Commitment.
And Jesus was saying to them all, "If anyone wishes to come after Me, he must deny himself, and take up his cross daily and follow Me." Luke 9:23

One of the lady's who had been coming to our Wednesday morning Bible studies and Friday night services in Mexico stopped coming and I noticed she had not been there for 3 weeks.  When I went by her home to see how she was doing, she tried to say that no one had been their to pick her up in the van for those weeks and acted as if she was offended by that.  I asked those who drive the van if they had gone by to get her, and they said yes, but she either wasn't there or she said she had visitors or she said she wasn't feeling good. 
Well, I prayed for discernment and then was led by the Lord to ask a friend of the lady in this story what was going on - the friend told me the following "She is mad because you decided to build a home for Luis and Claudia, and they barely started going to the services.  She said she has been going for over 6 months and you decided not to build her a house, but to build one for Luis and Claudia instead.  That's why she's not going."  Thank you Lord for discernment and thank you Holy Spirit for leading me into all Truth!
Apparently the lady in this story at the very least assumed that those who go to the services where we pray and preach the Word and hand out snacks and clean drinking water, well she assumed those are the people who we are going to build houses for.  The other half of her assumption was that "first come, first served" - she thougt there was some chronilogical order as in whoever was next in line was going to receive a free home from these Christians, if she only showed up regularly when we gathered.  Wow.  Her assumptions couldn't be farther from the truth!
Jesus tells a parable about heaven in the book of Matthew, which is really a revealing of the mystery of God's grace.  Jesus begins the story in the first verse of Chapter 20 by saying that a landowner went out early in the morning and hired some men to work in his vineyard, and agreed to pay them the going wage for a day's work.  Later on, the owner goes out and hires more men, and yet later in the day he goes out and hires more.  At the end of the day when the owner goes to pay the men their wages, he pays each man a full day's wage - the same amount for the men who started early as those who started to work later.  Listen to their response in the following verses, along with the owner's initial response:
"11 When they received it (their wages), they began to grumble against the landowner. 12 'These men who were hired last worked only one hour,' they said, 'and you have made them equal to us who have borne the burden of the work and the heat of the day.' 13 "But he answered one of them, 'Friend, I am not being unfair to you. Didn't you agree to work for a denarius (a day's wage)?' "
The owner was just in his actions to pay the men who worked a full day the wages that they had agreed to.  However, the owner was more than just, he was very gracious to those who worked less hours in paying them a full day's wage.  Listen to the rest of the owners response in the following verses:
"14 Take your pay and go. I want to give the man who was hired last the same as I gave you. 15 Don't I have the right to do what I want with my own money? Or are you envious because I am generous? "
The men who recieved their just reward for their hard work were not content with being treated justly.  On the other side, they were envious of those who recieved grace from the owner.  Too many people professing to be Christians for some crazy reason think they have a right to judge God.  As the owner in the story, Jesus asks us, "Don't I have the right to do what I want with what is mine?" 
Here's the main point friends:  God's grace cannot be earned by hard work, and His grace cannot be won.  God chooses to pour out blessings on whom He chooses to bless, and He chooses to treat justly everyone.  He doesn't have to bless anyone or show grace to anyone, He simply doesn't have to.  But ohhh how great is God who chooses to show us His Grace!!!
It Is IMPOSSIBLE To Win God's Grace By Any Works, and it is severly FOOLISH to judge God for being gracious to people other than yourself.  The lady in the story had no right to think that she was going to receive a home, but she assumed she had earned it simply for "showing up" to Bible studies and Church services.  She also was envious of others who were recipients of God's grace.  This lady is exactly like the men in the parable that Jesus tells as recorded in Matthew 20.
The reality is, God's in charge of the homes we build for poor and needy families.  He's in charge of the funds that are given from people like you to bless the desperate and to demonstrate Jesus' love, Word and power so that multitudes of people's lives are changed now and forever.  We pray, we ask for wisdom, for God's kingdom to come and will to be done on earth, we ask the Holy Spirit to lead us and reveal to us who He would want to bless with a home, and we ask God to touch the hearts of His children to give towards this work to extend the kingdom of God in this area of the world.  We then wait for people to send us finances, listen to the Spirit's leading as to what family will be the recipients of His grace, and respond in obedience to letting that family know what God wants to do for them right before we buy the materials and go to work on their new home. 
It is my hope, and it is my prayer, that this hard-hearted lady to whom I have referenced some how, some day comes to at least a limited understanding of God's grace - for if she does, then she will become born-again and her life will forever be changed.  Until then, "Father, we continue to seek your will to be done here.  If you want us to bless another family in the name of Jesus in the same way, I thank you for having shared your grace with so many of us and as a result we are ready to be generous so that another home would be built.  Please show us who that family is once we are aware that someone has given the funds to complete a home, and help us to minister to this new family the saving message of Jesus' love through proclaiming and demonstrating Your Word and Power that they would come to know you as their Lord and Savior, having their lives changed now, and forever!  In Jesus' name, amen." 
We started out our door in Mexico early this morning at 4am by taking a van full of people to Mexicali (about an hour away) to donate blood for 21 year old Abrham who is receiving treatment for his newly discovered Leukemia. 
Iracela & I were able to enter his room alone, share the gospel message underneath scrubs & behind facial masks, which Abrham received. He prayed out loud on his own, acknowleding that God was good and right, confessing the sin of his past, and thanking Jesus for dying for him.  He also made a promise to God that if God would give him health and strength, he would live for God when he got out of the hospital.  Upon hearing this, I told him that it was our turn to pray, and that we were going to ask God to heal him and get him out of the hospital so he could fulfill the promise he made to the Lord. 
When we finished praying, we affirmed for Abrham what God says in Romans 10:9, "that if you confess with your mouth Jesus as Lord, and believe in your heart that God (the Father) raised Him from the dead, you will be saved."  (he seemed to already understand that if he was to receive forgiveness from God and eternal life in heaven, then the least he could do was live for God in return)  After promising a really nice lunch to Abrham at our expense if the Lord chooses to do a miracle in his body and allow him to return to San Luis, we encouraged him to praise and worship God in his hospital bed for what Jesus did on the Cross and the salvation that is available through Him, to which Abrham responded, "Si, yo voy, yo voy." (I will, I will)  Please pray with us for Abrham.
BACKGROUND:  Abrham is the son of a man named Gregorio; Gregorio is a man who lives with his family in a small room made out of cardboard near the area we're ministering - he is also a friend of a man named Manuel; Manuel is a man that Curt met and invited to our Friday night Church service when Manuel was half-drunk  - Manuel apologized for smelling like alcohol and offered to leave, and after we asked him to stay he said he wanted to change so we prayed God would change him in a way he couldn't change himself; Curt is a missionary and the Project Coordinator for our outreach ministry Casas de la Esperanza. (p.s. went to see Manuel yesterday, he is 10 day sober and seeking the Lord who is right there waiting to receive him)

So, Manuel told Curt two weeks ago about his friend Gregorio who had a son in the hospital in Mexicali and was in dire circumstances.  Because Gregorio had been in Mexicali the last two weeks with his family to be at his son Abrham's bedside, Gregorio hadn't worked and now couldn't find anyone to loan him money for gas to get back Mexicali.  Curt meets Gregorio and gives him money so he and his wife and their 3 little kids could make the trip, and tells him he needs to get plugged into the community so there's others to help him in time of need. 
The following Friday night Gregorio and his wife Erica and their 3 little ones show up to the Church service for the first time, explaining who they are and what was happening.  We all prayed for them and for Abrham, and they stayed to hear God's Word preached in a service, then we had them over to our home in San Luis.  Thanks to you and many others like you who support us and Curt and our ministry, we were able to provide all of them with changes of clothes and shoes (they hadn't changed for some time), with a little help for more gas, canned food and snacks, and because they were all sleeping in their little car every night in front of the hospital, we gave them blankets and our little camping burner to heat canned food & water.
It's just amazing, simply amazing to see God work in people's lives, but looking back to see all the people He used who may never even know what God did with that little bit they did or gave to help extend the kingdom of God through the proclamation and demonstration of Jesus' Love, word and Power...  that is beyond amazing.  God Bless You!!!

Greetings Friends!
It is with much joy and exictement that I share with you the following updates:
Two weeks ago, 2 of the new believers started their own small group outside of the home where I used to lead a Bible study.  These new leaders are using the same "Christian Foundations" curriculum that I took them through, and they are now sharing with others what they have learned. Everyone in the group is very positive about how it is going, and what the new folks in the group are getting out of it.  I am so encouraged and blessed to hear those responses.  We are also planning (and praying) for one other person from that original group to also start a new small group with that same curriculum, I believe within the next 2 weeks.  Because of the results from the first group, my hopes are high for this second group.
In addition, I have ended the 2 Bible studies I was leading.  In their place, I have invited the core group of people to my home one night each week.  Last week was our first, and only 4 people showed – I am circling the wagons to invite them anew as to have more people involved. I will be pouring into their lives, not just in this home setting, but I am being very deliberate and purposeful in "taking them with me" when I go to do home visits, evangelize, pray, or even just go to the store.  So, my hope is to spend much time with these friends in many different settings now and in the near future.  (We have a list of over 70 families with names and addresses of those who came to the Christmas outreach event – we will be visiting those families in their homes and look forward to the leading of the Holy Spirit with those opportunities.)
It's not easy to release these new believers into leadership roles, but its is right to empower them and release them.  I will continue to meet with them for encouragement, training and direction, but I'm really praying the Holy Spirit stays in control.  A Pastor friend of mine, John Armandola wrote, "I would say that the same God who is bringing 55 people on Friday night, and 200 people to an outreach is able to empower 11-12 people to lead!"  I believe God is able.  I ask that you Believe with me, and pray accordingly.
Pressing On With You,
David & Iracela Power and Family
Currently Receiving Mail at:
2381 S. Camino Tierra
Yuma, AZ 85364
928-246-4142

This dog was almost dead (possibly dead) 30 minutes before the photo was taken. Last Wednesday as our Bible study about how Jesus is alive today & just as powerful as He was after His resurrection as we were reading in John 21, this dog came 'walking' through the middle of the group with her back bowed-up & legs stiffened. When she got behind the chairs, she fell over breathing heavily with eyes rolled back & spasms - the breathing seemed to stop along with spasms. As a hand was laid on her head, a quiet prayer affirming Jesus is who we just read about, the breathing returned to normal, the legs relaxed, the eyes now looking up like a baby. Within seconds, the dog got up & walked back into the group to be petted. Unbelievable? God does what some would call unbelievable - Jesus is Alive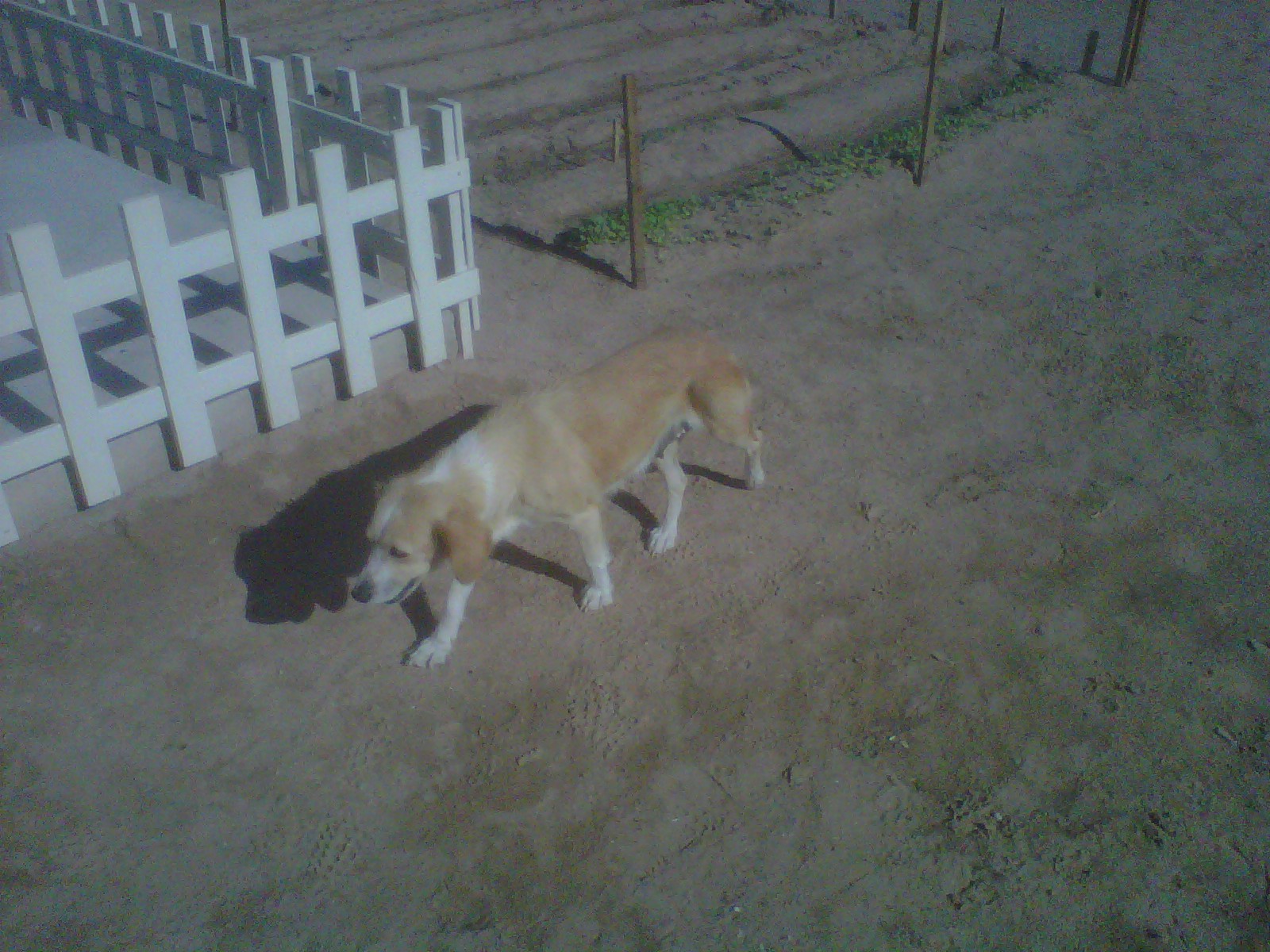 Evening Friends!
It is with great humility, and even greater excitement that I get to announce our plans to baptize three or more new believers this coming Friday, September 30, 2011.  I've come to realize over the years that some put way too much emphasis on water baptism, and others downplay it so much that it's not something they even encourage nor celebrate.  It's been so interesting just seeping through all the stuff to see what God says and thinks about water baptism, and I have to say, it's just as much an amazing experience now as it was when about 3,000 people confessed their sins, repented, and put their trust in Jesus (Acts, Chapter 2). 
It's also been very interesting to see the "process" of people coming to saving faith in Christ.  Some folks trust Jesus the first time they hear about Him and what He did on the Cross and why He had to do it - but so many others go through this process of hearing the gospel message, and messages about eternal life and death, sometimes several times over before surrendering their lives  ...and there's no way to tell ahead of time when they're going to make that fire-escaping decision.  They come, they listen intently, and they go away pensive about Jesus and their eternal destiny; then they come back to listen again, meditate on the truths of God's Word that they've heard, then go away again without having given their life to Jesus.  Ohh my gosh, I can't tell you how frustrating this process can be for a Preacher!!! 
Nevertheless, the planting continues, the watering continues, and lo-and-behold, God gives the increase!  Finally there is some harvest, and my goodness, how beautiful and how perfect and how wonderful it is!!!!  Thank you Jesus for all the ones You have called and are calling into your Kingdom now, continually and forever!  And thank you my friends for all of your prayers, financial support, and for your heart towards God, His Kingdom work, and the lost for whom He has called us to teach, disciple and... baptize!  May the Lord Richly Bless You!!!
Pastor David & Iracela Power
the Church @ San Luis

(928) 246-4142
www.ChurchMexico.com

/